Charity Endeavors
March of Dimes "Walk-a-Thon"
The Mission of the March of Dimes is to improve the health of babies by preventing birth defects and infant mortality. The March of Dimes carries out this mission through programs of research, community services, education, and advocacy.
The Mach of Dimes biggest fund-raiser, WalkAmerica supports research and programs that save babies born prematurely or with birth defects. Since its beginning in 1970, WalkAmerica has raised more than $1 billion to help give babies a fighting chance.
Now in its 31st year, WalkAmerica is a walking event, taking place in 1,400 communities in all 50 states, the District of Columbia and Puerto Rico. Routes vary in length, but most are about 20 kilometers (approximately 12 miles). In most communities, WalkAmerica is held at the last weekend in April.
Colonial Cooperative Care participates annually in WalkAmerica and collectively raised over one thousand dollars for the 2000 walk.
Fidelco Guide Dog Foundation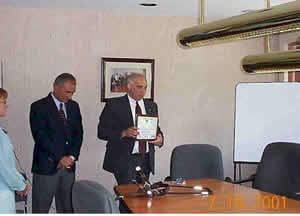 As blind people become desirous of a more independent lifestyle, the demand for guide dogs in the U.S. has greatly increased. The Fidelco Guide Dog Foundation (a non-profit organization) is the sole guide dog school located in New England. Based in Bloomfield, Connecticut, Fidelco breeds, raises and trains German shepherd guide dogs to be placed with blind men and women. Fidelco recently doubled the size of its facility with a goal of training and placing more guide dogs with men and women who are blind.
Each Spring, Fidelco holds a "walk" to raise money for the foundation. In addition to participating in the walk, several staff members at Colonial Cooperative Care act as foster families for Fidelco guide dogs in training as well as retired guide dogs. Eva and Brenna accompany their staff moms to work each day and with over twenty staff members, they are never lacking in attention at the office.
On July 18, 2001 CCC was presented with a Certificate of Appreciation by Fidelco, by George Salpietro, Executive Director.
Brenna
Brenna, a six year old female retired guide dog was adopted by Jo Finley and her family in August 2000. Brenna was surrendered by her owner when the dog fell ill and her owner could no longer care for her. She served five years as a guide dog and upon her adoption she had surgery on both ears in an attempt to clear up debilitating ear infections. After several months Brenna began to overcome the illness and has been well since January 2001. she is an outgoing dog who has won the hearts of all of the staff at Colonial.
Eva
Eva was born on June 6, 2000 to mother Utah and father Jedi. Nine weeks later she went to live with her foster parents Marie and George Salpietro and foster brother Oskar, also a Fidelco dog. Eva is the fourth Fidelco dog for the Salpietro family and she has accompanied Marie to work every day since her adoption. She will live with her foster family until she is 14-16 months old at which time she will enter a 6-8 month training before being placed with an owner. Eva is a playful girl with a mild temperament, which keeps her very well behaved in the office. She is tremendously adaptable and intelligent and brings a smile to all our faces.
Kaylee
An alumnus of Colonial Cooperative Care, Kaylee was born on May 18, 1999 to mother Brita and father Troy. She was placed with the Alessi family when she was a pup and was fostered until September 2000 when she began her formal training. Kaylee has nearly completed her training and her foster family was recently invited to watch her in her 'blindfold walk' in Hartford in June 2001. The blindfold walk signals one of the last stages of training after which Kaylee will be placed with her blind owner.
Uston
was born on January 23, 2000 to mother Quinn and father Troy. When she was a pup, Uston was originally placed with a family that lived in a fairly remote town in Vermont. During the first few months of her life, her foster family realized that Uston was not being exposed to the kinds of environments she would have to learn to deal with in order to be given a proper chance at success as a guide dog. The Vermont family shared their concerns with Fidelco and Uston was re-placed with the Alessi family. The Alessi's picked up Uston on the same day that they dropped off Kaylee and suddenly found themselves in the midst of a slightly hesitant seven month old puppy who had yet to be exposed to traffic and other busy aspects of community life. With a lot of love and care, Uston was coaxed out of her shell and has become a very affectionate dog with a sweet temperament. She now accompanies Dr. Alessi to his office in East Lyme, Connecticut each day and is very popular with his patients.
Special Olympics
On September 10, 2001 CCC helped to sponsor the 4th Annual Connecticut & Rhode Island Special Olympics Golf Benefit at Foxwoods Golf & Country Club